A New Concept Hotel at the Gates of Angkor
Water and flora have been the inspiration behind all our projects starting from the opening of our first hotel in Phnom Penh, in 2006. When we discovered the grounds on which we would eventually build Templation, we were immediately inspired by that pocket of untamed nature in a quiet residential area. Architects Ivan Tizianel and Lisa Ros from ASMA designed the space as a modern echo of the waterways and reservoirs that once nurtured the ancient city of Angkor.

We just cleared off the dense underbrush, preserving the native trees and plants. Villas, pools and common areas have been carefully devised to blend with the land that made such an impression on us, preparing the visitor to the serene beauty of the Khmer temples.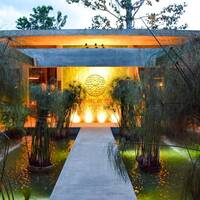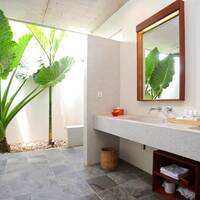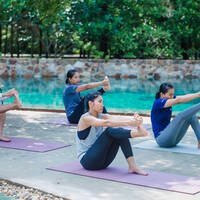 With vegetal roofs, volumes designed to enhance the natural airflow, solar panels directly connected to its electric grid and careful collection of rainwater, Templation is serenely pursuing a green hotel concept. These environment-conscious choices discreetly add to the sense of harmony with nature, of respect and admiration for the historical legacy of the Khmer Temples nearby.

Connected and In Phase
Our team actively contribute to reforestation programs in Siem Reap area, to the development of organic farming, and to a better knowlege of Cambodia's cultural heritage.
More about Templation
Our environmental and social committment
Architectural Serenity

An interview with chief architect Ivan Tizianel: a new concept of architectured...

Art show by Chhan Dina and Tatakazu Yamada, with a Sacred Dancers...

Going Greener in Siem Reap

Pioneer in the Cambodian hotel industry for direct collection and use of...

A serene celebration of water, floating lights and the New Moon

We are committed to make your resort always more environment-friendly. Find how...
What you say about us
Highly Instagrammable haven for memorable stays